In Memory
Joyce Clevenger (Cullen)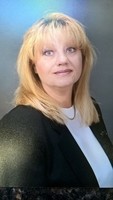 Joyce Ann Cullen, 65, of Outlook, passed away the morning of Monday, July 10, 2017 at Virginia Mason Hospital in Seattle.
Joyce was born on January 15, 1952 to Delores and Don Clevenger in Pratt, Kansas. In 1962 the family moved to Wenatchee, Washington and again in 1967 to Sunnyside, Washington where she graduated from Sunnyside High School in the Class of 1970, followed by beauty school.
In 1970 she married Tim Graham and together they had two sons, David Anthony Graham (1973) and Michael Richard Graham (1978).
On June 22, 2002 Joyce married her husband of 15 years, Earl Cullen, and they made their home in Outlook.
Joyce enjoyed painting, camping, playing games, cooking, and socializing with family and friends.
Joyce worked in many places but loved most owning and managing the Bean Pod Coffee Shop in Yakima and always wanted to open another coffee shop.
She was a fighter and survivor, having survived acute leukemia for 15 years.
Joyce is survived by her husband, Earl, her son, David (Kirsten), her mother, Delores Clevenger, three sisters, Malinda Branson, Peggy Trussell, and Glenda (Keith) Owen, her grandchildren, Jayme, Jaxon, Kaitlyn, Brylee, and Emma, her mother-in-law, Dorothy Cullen, her in-laws, Toni (Darrell) Geary, Renee (Joe) Kessinger, Cindy (Rick) Allen, John (Karen) Cullen, step-sons, Dana (Heather) Cullen and Bryan (Tara) Cullen, her friends, Trish Hull and Heather West, many special nieces, nephews, and cousins, and many other close friends and neighbors.
She is also survived by her special "fur babies," Chewey and Jelly Bean.
She is preceded in death by her father, Don Clevenger, and her be-loved son, Mike.
Source - Valley Hills Funeral Home
http://www.yakimaherald.com/obituaries/joyce-ann-cullen/article_120dbccc-6752-11e7-8c7d-3fb384eb700d.html