In Memory
Sherry Holmes (Mahaffey)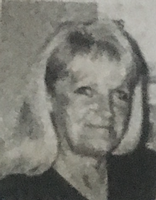 Sherry Lynne (Holmes) Mahaffey passed away January 15, 2012 in her home surrounded by family. Sherry was born in Yakima to Art and Joyce Holmes on March 16, 1952. She was the first of four girls and was raised in Yakima and the Lower Valley. She was admired by her three sisters for all her creative talents, and they followed her lead through many adventures. Sherry was known for her friendliness and likeability. She had the ability to make friends. In fact, after leaving Sunnyside High School after her junior year as her family moved to Yakima, Sherry was named prom queen at West Valley, after being a member of that school's student body for less than a year.
After graduating from West Valley High School in 1970, she married and moved to Grandview, WA where her two children were born. She considered her greatest accomplishments in life to be her daughter, Corrie, and son, Brandon. One of her greatest joys was the birth of her granddaughter, Rylee, in 2001.
Sherry's outgoing personality and enjoyment of people guided her career choices. In 1996, Sherry's desire to live on the beach led her to Port Aransas, TX, where she received her real estate license and began selling homes on the beach. She enjoyed the beauty of watching dolphins swim in the Gulf of Mexico. While in Texas, she met and married Tom Mahaffey and they shared many memorable times that she cherished. She returned to Washington in 2011 to be with family.
We admire her independent spirit and strong will. She will be greatly missed.
She is survived by her daughter Corrie Mullen and husband Joel of West Richland, son Brandon Dickinson and wife Dusty of Tieton, and granddaughter Rylee Mullen. She is also survived by her sisters Susan (Bryan) Nielsen of Ellensburg, Kathy (Barry) Woolman of Yakima, and Dianna (Scott) Galbraith of Grandview.
Memorials can be made to the Juvenile Diabetes Research Foundation.
Source - Yakima Herald