In Memory
Tom Johnson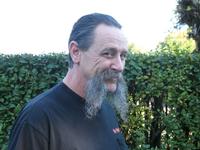 Tom Johnson passed away April 8, 2018. Below is his obituary.
In the year Elizabeth II became Queen and the Korean conflict continued, Thomas Keith Johnson, Jr. joined this world on March 26, 1952, and celebrated his 66 birthday before passing from us on April 8, 2018.
Tom was proud of his life-long career in construction as a carpenter. His creations stand throughout the Yakima Valley and beyond. His attention to detail, problem solving skills, his love to build, and strong work ethic made him a Master Carpenter and Master Craftsman.
On Jan. 6, 1985, Tom became the proud father of his son Joshua (Josh). Tom was very proud of his son, enjoyed spending time with him and come football season, Tom could always be found on the sidelines cheering for his favorite #44.
After years in the Yakima area, Tom ventured south to San Diego to enter the commercial building arena. He supervised construction of a storage bunker for Tomahawk cruise missiles in Poway, a hotel in Kearney Mesa, and a shopping mall in downtown Santa Barbara. Returning to Olympia, Tom met and married his best friend, Nikki (and her daughter), on Feb 24, 1999.
Tom then became instrumental in the construction of many projects for the State of Washington, multiple retail stores and distribution centers, military facilities, theaters, and fire stations. The project of which Tom was most proud was the construction of the Wheeler Building in Olympia.
On all his projects, Tom considered workers' safety paramount. He loved what he did and the people with whom he worked. He was never better than anyone on the job site. His attitude spread to all those around him.
Tom grew up with motor-cycle madness. He loved motorcycles at an early age. Harley Davidson motorcycles. The "only real motorcycle", Tom would say. He got his first Harley at the age of 16 – and still owned it at the time of his death. He added several more to his collection through the years, but his final love was his 1952 Panhead, born the same year he was. He spent over five years in his self-built "Cycle Barn" meticulously restoring it to its original factory-order form. No detail omitted. No aftermarket parts. A work of art.
As a born teacher, it brought Tom great joy to teach others and share what he knew. Whether it was showing a fellow motorcycle enthusiast how to repair a bike, teaching his son the strategies of football, teaching his granddaughter, Brooke, how to hold a pen, or sharing the history of a roadside attraction or the family's history – Tom was a natural teacher and he loved it.
Tom loved exploring this great country of ours and shared his love of motorcy-cles with Nikki and a select group of fellow motorcyclists, known as "The Trusted Ones". Together they spent many thousands of miles in pure joy crisscrossing the USA. The destination of every motorcycle ride was a National Park or a series of National Parks. Two of Tom's favorites include: Glacier and Arches.
On the weekends Tom, Nikki and their dog Gatsby could be found exploring a state/local park or enjoying the offerings of a local festival. Tom's favorite festival was Salmon Days in Issaquah.
Tom was also a musician. He could take a song from memory and recreate it through his fingers. He taught himself to fiddle and Joshua to play the guitar. He didn't just "strum" a guitar - he "picked" every string. He loved to perform with and for others. Acquiring many guitars over the years, he said, "they all sound a little different", "they each have their place".
Something that surprised people was Tom's "softer" side – his love for children and animals. He could not wait for the next time to see Brooke. And every morning while his coffee was brewing, Tom made sure the neighborhood birds had seed, the blue jays had peanuts, and the squirrels had corn.
Tom eagerly anticipated family gatherings - Football in the hay field, Thanksgiving and the ritual of the meal, great laughter together, and Christmas giving. Tom received great joy from giving (often making the gift to be given), taking meticulous care in the wrapping and even more joy in watching the expressions of the lucky recipients.
Tom lived by the golden rules: "Do unto others what you would have done unto you; your word is your bond; a friend is a friend for life; a good day's work for a good day's pay; family history is what forms us; help those who need it; don't be a burden; if it's worth doing, do it right; there's no sense complaining; and remember how you got here."
Born the third of eight children in Corvallis, Ore., Tom moved with family to Outlook/Sunnyside when eight years old and graduated from Sunnyside High School in the class of 1970.
He was predeceased by his father, Thomas Keith Johnson Sr, his mother, Peggy E. Buffum Johnson, nephews Parker Bounds Johnson and Zachary Wood. He is survived by his wife Nikki Johnson, son Joshua Johnson (Cortnea Austin), daughter Rebecca Peterson (Michael) and granddaughter Brooke, siblings Judy Johnson (Paul Barasch), Janis Johnson Westbrook, Bob (Debbie) Johnson, Joyce (Jim LaBarber) Johnson, James W. Johnson, Daniel Johnson (Liz Bounds), Peggy Sue Johnson, Uncle Bob Bufum, Aunt Elaine Johnson, Aunt Maybeth Johnson Wilson, and numerous nieces, nephews, cousins, biking buddies, and friends.
http://www.dailysunnews.com/news/2018/apr/18/tom-k-johnson-jr/